Our Lifestyle Hotel offers 18 Junior Suite between those you can choose
Junior Suite with Terrace
MATRIMONIAL ROOM FOR 2 ADULTS AND 1 KID
Room surface starting from 22 mq, with terrace from 15 mq.
Exclusiveness in Bibione got a name: HVB34
our Junior Suites are available in different combinations, designed thinking about the light as dominant feature, source of life force energie always different in the different hours of the day, they represent the ideal starting point for a brand new experience, where you can forget about all the rest.
Why you will forget about all the rest
When you choose a Junior Suite here at HVB34 Lifestyle Hotel Bibione, you have the opportunity to find the right combination of bed and spaces, your holiday come into a new dimension, in fact, there are different combinations available:
DOUBLE DOUBLE BEDS

The solution Double and Double Double provides an accomodation with French beds, optimal for families with children. Beds can be separated or united, creating one single large bed of 5 meters.
Can you imagine it?
FAMILY ROOM
Is the perfect solution for a family with the possibility to choose a Junior Suite and at the same time configure for 2 adults and up to three children or teenagers with additional beds, also bunk beds.
Fun is guaranteed!
CONNECTING ROOMS
These are communicating rooms through a double soundproof door, without crossing the outer corridor, excellent for giving more privacy to mom and dad. The door can be open or closed.
The solution that you don't expect!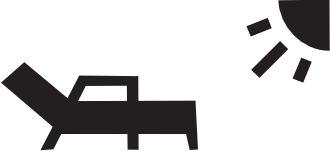 SOLARIUM TERRACE
All rooms included a terrace of at least 15 mq, but at HVB34 we are used to give you what you don't expect, so you can also choose a bigger one with all day long sun exposition.
Because tanning makes you special!
Configure your holiday beginning from your Junior Suite at HVB34 Lifestyle